Diwali Calls for a Celebration with Flat 30% Off on All Assignments!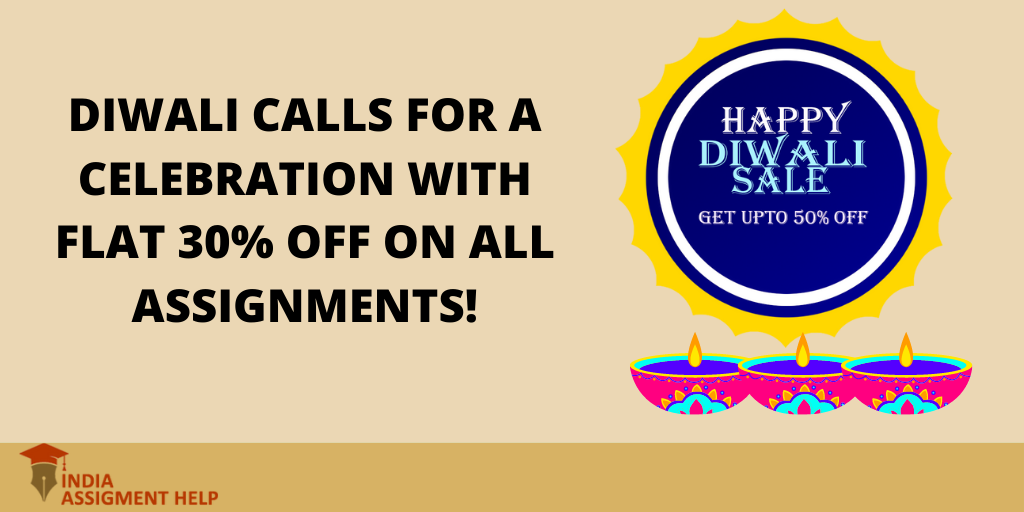 Since Diwali is just around the corner, so do the expenses! Obviously, you would want to get decked and everything, but maybe the unwanted expenses are coming in your path. Just like every other year, you might be quite excited to buy new presents for your near and dear ones, but probably, the thought of buying reference assignments is what has overpowered all other thoughts!
Worry not, our assignment help experts have got you covered. We are here with a flat 30% off on all assignments for you. With this upcoming Diwali Sale, you wouldn't need to worry about the expenses anymore. You can go ahead and fulfil all your wishes, simultaneously getting guidance from us on all your academic queries at affordable prices sitting right at your homes!
India Assignment Help (IAH) is a benevolent firm that has taken the responsibility of brightening your Diwali this time with a bumper Diwali Sale! Go ahead and make the most of this lucrative sale and enjoy an amazing Diwali.
Diwali Sale in Support of All Students Affected by Coronavirus
We understand how difficult it has been for you to cope up with the online lectures. It might not have dawned upon you until now, but it has been over two years since the global pandemic conditions have shown its course.
Many of you might have missed the prospects of attending different workshops, and internships to boost your career, while others might have come across several technicalities when writing their research papers.
A lot of students faced difficulties in reaching different educational destinations in the UK, Canada, Australia and many other countries due to travel bans. This is the reason many of the Indian students are not able to return to India to celebrate Diwali.
This time we are extending our financial support to all the students who have been hit by Covid across Australia. Since you have been retorting to the Covid shockwaves, getting a flat 30% off on all assignments is something that can somehow release you from all the assignment anxieties. This way, our assignment help experts have decided to minimise the effects of Covid on Diwali.
What Makes The Diwali Sale So Special This Time?
You get a flat 30% discount on all your assignments with us this Diwali. There's a lot of new things that you will come across in this sale. We have specialised certified experts in our panel who would be providing you with affordable assignment help this time. Let us brief you more about our prolific team of experts so that you know who will be guiding you through your work.
These are some of the main highlights of our certified academic writers.
We have spent over a decade handling a wide range of assignments and got more than 2000 five-star ratings from the clients.
Based on the experience, you can choose the experts from three categories that are standard experts, professional experts, and elite experts.
Want To Get Your Assignments Delivered On Time? You Can Choose From These Options
Diwali can never be happier when you have such flexibility to customise your own delivery options. Yes, you heard us right. Our assignment help experts will provide you with the following delivery options to select from. For all the options, you get a flat 30% discount on all the assignments from us.
1. Standard Delivery
If you don't have any rush to get your reference assignments delivered to your homes, then you can opt for the standard delivery. Our academic experts work diligently on the assignment order and hand it over to you within the given time frame.
2. Express Delivery
If you just have a day to submit the assignment, then you don't need to worry about it. We have express delivery for you. Our assignment help experts complete the work before 24 hours and hand it over to the clients.
3. Super Express Delivery
Even if you just have 12 hours or less than 24 hours, then you can stay calm. We have a team of exclusive experts who have a lot of experience in handling the assignments. This makes the perfect fit for completing your work within the given stipulated time. Based on your needs, choose any of these options and get a flat 30% off on all the assignments from us!
Why Should You Not Miss the Biggest Diwali Sale?
In addition to the heavy and lucrative discounts that you get from us, there are a number of value-added services that our assignment help experts provide you with. India Assignment Help (IAH) is a trusted online platform that has been solely devoted to helping students with all their academic needs.
When you place an order with us, these are some of the perks that you get from us. Other than these, our assignment help experts are available all throughout the day and night to assist you with all your academic needs.
So, what are you waiting for? The biggest Diwali Sale is live now and the time has already started! Grab this amazing sale and get your hands on flat 30% off on all your assignments before time runs out. Fill up the order form now! We will get back to you at the earliest to cater to all your doubts and queries. This Diwali, you don't need to worry about the expenses because we have already got it covered for you. Wish you a happy Diwali!