Your statement of purpose allows the admission panel to find out about the merits of your candidature. If you plan to secure admission for a master's program in a reputed university, you must prepare a powerful statement of purpose for MS. Students often lack the proficiency in writing an effective SOP for MS as they lack knowledge regarding the structure, format, and the elements that must be included in an SOP. This is where they start searching for someone who can write their statement of purpose for MS and if you are also among them, India Assignment Help will lead to success.
SOP is an essential document that helps in presenting the candidature powerfully. It is very well known that the statement of purpose is required to be written so that it reflects the individual's personality, determination, enthusiasm, and aspirations towards his/her application. It must state the purpose of applying to a particular institution clearly and concisely. It must explain the applicant's profile so that it reflects everything done by the candidate so far and relating the same with his/her aspirations. It must also highlight achievements along with future ambitions. Out of all career goals that have been considered the most essential to be covered in a statement of purpose for MS would be career goals about the chosen course of study and the university details you wish to apply.
The Flow of Information While Writing an SOP for MS
India Assignment Help, with its excellent team of professional SOP writers, presents the right structure for writing a statement of purpose for MS.
Discuss the institute that you are planning to join and how it relates to your long-term goals.
Giving a brief academic and professional background.
Highlighting all the endeavours and achievements that are related to dreams.
Combining the efforts and achievements with a motivation covering the following two paragraphs.
A brief of how the academic and professional background complements the course of your choice.
How it will help in achieving the goals.
All the information mentioned above must lead the discussion towards your decision regarding applying for MS in that particular college
A brief discussion of opportunities.
A brief discussion of skills and knowledge.
Some Powerful Tips for Preparing your SOP for Masters
1. Showcasing Achievements
This section must include all the academic accomplishments and co-scholastic achievements. It must be started with creating a separate list of actions to make it work objectively. The plan must be related to the candidate's school, graduation, workshops, and seminars.
2. Thinking About the Goals and Penning Them Down Clearly
It is essential to know and think about the goals. Once you identify the purposes related to your course, you must briefly discuss them in brief.
3. Comparing, Classifying, And Cropping the List
This step is considered the most crucial step. There might be many things that could be written in an SOP for MS as it will include every important thing regarding your academic and professional life till graduation. So, selecting the most important things to be added out of all and keeping all the information within the word limit is important.
4. Exploring the Research Projects in The Institute, You Are Applying To
Every university and institute is looking forward to work on some of the other research projects. So, by researching them and if related to any of the projects of the candidate. Linking the SOP with that of the ongoing research will add value to the SOP.
5. Write -- Edit -- Re-edit
After collecting all of the information and preparing a draft, writing the SOP should be started. It must be rechecked to analyse if there is any grammatical error in the document. The document should be edited as per the mistakes.
Sample of SOP for MS Written by Our Experts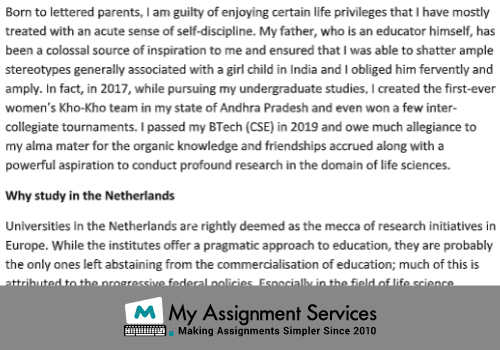 Get Your SOP for Masters at India Assignment Help Today
If you want admission to your dream university, then SOP writing experts from India Assignment Help can help you out and given below are the guaranteed features of our services.
Our experts will provide you with a winning SOP as they:
Increases the chances of your selection
Follow the university-standard structure and conventions
Curate verbally strong SOP