Writing Tips to Get Better Marks in Your College Assignments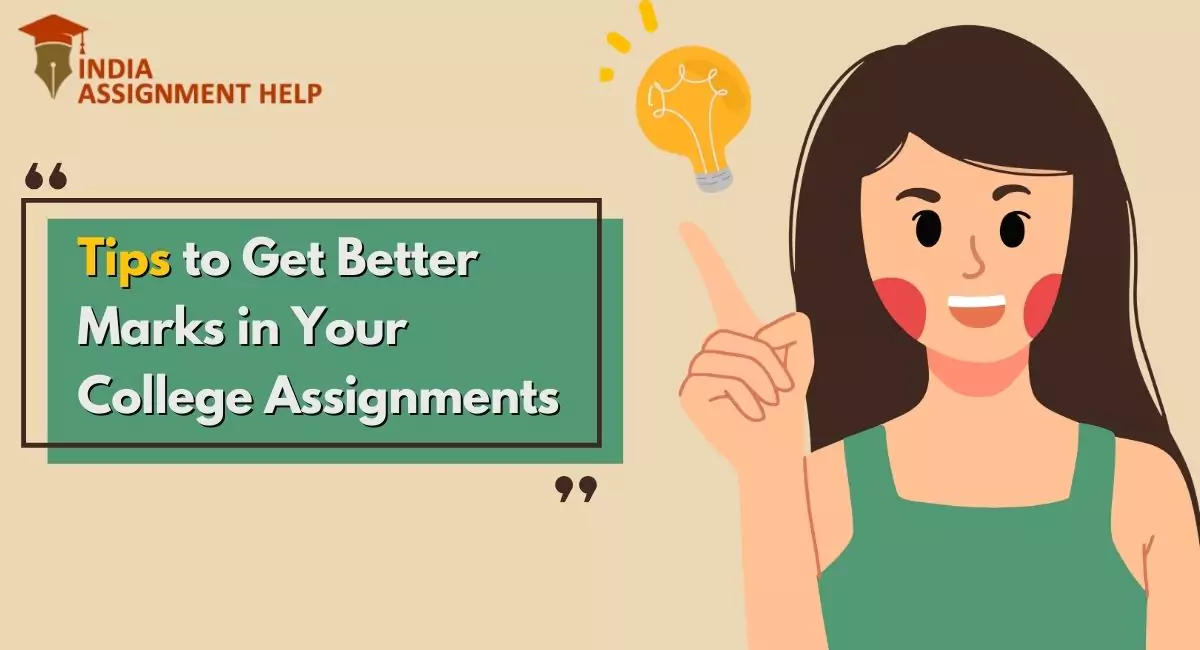 The college syllabus can be a tough nut to crack. You must do well in your assignments, not just to get good marks but also to get great marks. Several writing tips may help you, like peeking at different websites, reading informative books, and so on. Getting good grades on your college assignments is important and can mean a much better chance of getting into the best colleges. Like with any part of life, it takes time and practice to become an expert in writing.
Assignments can be challenging and time-consuming, but they play an important role in the college curriculum. It would be wrong to say that handing in a bunch of homework assignments means better grades since most students take their education seriously. The truth is that if a student does not put much effort into these college assignments, it can have a considerably negative impact on his or her grades because the work given to students is from experts, and understanding it fully is tough.
India Assignment Help will provide the best assignment writing tips, which will be followed in the blog, to help students complete their college assignments with ease and minimal effort. This blog will give you every writing tip that is essential to getting the best grades on the assignment. You will get cheap assignment help without worrying about money. So, stay tuned!
Importance of College Assignments for Students
First, it's important because, without college assignments, a student isn't going to be able to learn anything new, no matter how hard he or she tries to absorb knowledge. So, it's better to admit the importance of college assignments before thinking that they are futile.
Second of all, college assignments play an imperative role in boosting the confidence and learning capacity of students. Students who don't do elementary assignments tend to lose interest in learning, and they start believing that they don't have any learning capacity. Thus, they avoid doing assignments and participating in classroom discussions.
Thirdly, unlike books and articles, which are slow modes of knowledge absorption (despite their convenience), doing college assignments is a fast as well as effective way to learn.
Best College Assignment Writing Tips
College assignments are a big pain. You are expected to do them and want them to be done well. Hence following are the best assignment writing tips that will help you to get the best grades:
Make a strict schedule
Do deep research on the topic
Get help from online sources
Do correct formatting
Keep the structure and language simple
Divide the assignment into 3 sections

Thesis Statement
Body Part
Conclusion

Don't forget to Proofread thoroughly
Make sure to include citation
Make a Strict Schedule
It is important to make a strict schedule for yourself. You should have a clear plan of how you want to write and when you want to finish it. This will help you stay on track and not get distracted by other things.
Developing good time management skills is one of the most important things that every student needs to do to succeed in university or college life. It may seem like it would be easy after all, but everyone else seems to be able to manage their lives by setting aside certain hours during the day when they need to study or work on homework but it's not as easy as it seems!
Do Deep Research on the Topic
If you are assigned to write an assignment on some topic, then you should do some research first on that topic. This will help you understand the topic better so that, after you write it, your essay will be more meaningful. If you do not do any research on the topic, then there is no point in writing an essay about it! You can use online resources or books as reference material while doing your research.
Get Help from Online Sources
You can also ask your friends or acquaintances for help while writing the paper if they know something about the subject matter. They might provide some useful information that will help improve your essay and make it more interesting as well.
The next thing that you need to do is get help from online sources. There are many websites where people share their knowledge and experience with others, which makes them an excellent source of information for students who want to learn more about their subject matter.
Do Correct Formatting
If you are writing an assignment, it is important to make sure that your paper is formatted correctly. If you are using a word processor like Microsoft Word, Adobe InDesign, or OpenOffice Writer, then you should use the standard 8.5 by 11-inch size and a two-column format. This will make all of the pages of your paper look more professional. It is also a good idea to make sure that your margins are 1 inch on all sides. This will make it easier for you to write in small spaces on the page such as inside paragraphs or letters and keep everything lined up properly.
Keep the Structure and Language Simple
When you are writing an assignment, keep the structure and language simple so that it is easier for the reader to understand what you are trying to say. According to our assignment experts, a common mistake that students make when writing an essay is using too many complex words or sentences which makes it difficult for the reader to understand what they are trying to say. Instead of using long sentences try short ones which will help with clarity and understanding of your message. You should also avoid using slang words or phrases in your essays as they may distract from the actual meaning of your message or even confuse other readers who do not understand them properly.
Divide the Assignment
Divide the assignment into 3 sections:
Thesis Statement
Body Part
Conclusion
Thesis Statement: The thesis statement is the main idea of your paper. It must be clearly stated, and it should be the main point you want to convey in your paper. Your thesis statement should be written first in your introduction paragraph.
Body Part: In each section of your assignment, there is a body part that focuses on one specific topic. The body part is broken down into sub-topics and subsections. This will make it easier for others to understand what is being discussed in each section of your assignment, as well as how it relates to other sections within it.
Conclusion: The conclusion is where you summarize what has been said throughout the body parts of your assignment, as well as give an overall summary of what was discussed throughout all sections of the content provided within each body part.
Don't Forget to Proofread Thoroughly
When writing an assignment, the student must proofread his work for errors and typos. This will help avoid any confusion in the eyes of his professor and make sure that the professor knows exactly what he needs to read before grading or accepting such an assignment. It is also important to make sure that there are no spelling mistakes and if any, then correct them at once.
Make sure to Include Citation
All college assignments should include some form of citation at the end of each paragraph or section. This helps professors keep track of citations for their research purposes as well as for future use when it comes time for reference purposes. The best way to cite something is by using footnotes or endnotes in your paper and making a summary statement at the end of each paragraph that includes all sources used in your work.
Get in Touch with Us
A dose of creativity and just a bit of luck are often the keys to great success. Our blog has offered you some useful assignment writing tips to help you maximize your grades with minimum effort and without compromising on your assignments. India Assignment Help hopes that you have enjoyed reading this blog as much as we, assignment experts, have enjoyed writing it. If you have any questions or suggestions regarding the assignment help, please get in touch with us. Our assignment expert will clear all your doubts with cheap assignment help.