Avail a Ticket to Your Dream University by Exploring our Statement of Purpose Format
Unable to persuade the admission committee in your favour with an effective statement of purpose? Don't worry with India Assignment help you can tilt the admission scale and attain the letter of acceptance with ease.
Writing the best statement of purpose is not an easy walk; it requires an extensive understanding and ensuing precise statement of purpose format.
For this reason, most students across the globe experience rejection and shattering of their dreams due to improper and informal writing. In such a scenario, we provide myriad of statement of purpose templates that you can refer and opt for writing the best SOP.
The international universities across the UK, US and Canada, need the students across the globe to submit their statement of purpose by articulating their definite goals. Hence at India Assignment Help our experts make every effort to guide you in the best way by offering exceptional SOP formats.
Our statement of purpose format features all the necessary elements that make an SOP suitable for getting into your desired university. We leave no stone unturned and go the extra mile to assist you in achieving your dream.
If you are looking for writing an ultimate SOP for studying in your dream university, you must go through our statement of purpose format and make a further decision.
What is a Statement of Purpose?
A statement of purpose is an application essay or even a letter of intent that applies to the admission committee and completely exclusive to the admission procedure. The essay features your career interest, academic background, professional contributions and the pursuit to go for a specific course and university.
Statement of purpose is the ultimate way of getting into an international university. It defines your take on your personal and professional life, knowledge on the subject along with your vision. The SOP you write should print your academic endeavour as well as your personality to the admission committee. The paper must include all the necessary answers to why they should prefer you over thousands of applications.
Hence submit a statement of purpose that features your story and personal statements that can be the deciding factor in your university admission.
Introduction – Paragraph 1
The first paragraph of your statement of purpose is all about introducing the highlighting points you will discuss in the essay. You must discuss the long-term goals and discuss how your admission into the university can help you meet such goals.
Moreover, you must describe your understanding of the selected course and the reason for professional interest. You can also present your academic background along with your prospects and your interest in the subject. Always try to showcase a story with a definite vision instead of offering statement for appealing the admission committee.
Paragraph 2 & 3 The Body of SOP
The Body of your statement of purpose must include a lucid picture of your academic, work experiences, and details on the extracurricular activities you are involved in.
Always remember the body of your SOP is the core, so you need to be extra vigilant. While including your academic background, you must present the same with clarity and also in detail. You can also include the projects you have handled and your previous work experiences as well.
In the body section, you should also focus on mentioning your physical and mental strength as well. Most of the admission committee members not only look for the academic graph; they also want to judge your physical strength and mental ability to handle academic pressure. Hence include the internships you have attended, the thesis you have written and study materials you have gone through.
It is all about describing your ability to work under pressure. So, if you are competent enough to deal with the challenges and present that effectively in your SOP, no one can stop you from achieving your dream.
Paragraph 4 Why You, Why the University as well as the Course
In this paragraph of SOP writing, you should explain your interests about the specific university and the course and the highlighting points of the university that entices you.
You should include the key qualities of the university that compel you to reject all other universities. Lastly, don't forget to mention your research process and clarity by showcasing the latest developments, research papers and new opportunities on your chosen course.
Final Paragraph, Closing- The Concluding Paragraph
Where do you see Yourself after five years from now? It's quite an obvious question, right? For any interviewee or even the interviewer it is a common question, but not for the admission committee. They want to unearth your stand with this, so you must utilize this and present yourself effectively so that they can deem you as one of their illustrious alumni.
You must present your goals and aspirations that you wish to attain in your life in the conclusion part. The SOP's closure should be on a positive note and showcase how you can be a valuable addition.
It must address your potentials and prove your candidature effectively in front of the admission committee.
FAQ's Statement of Purpose
How to write an effective statement of purpose?
To write an effective statement of purpose, you must divide it into four important steps. It includes the reason behind your study and your future expectation after the successful completion of the course—secondly the reason for choosing the university and even the country, thirdly your previous experiences. The last thing you must include in your SOP is your personality and explain how it will help you get into your dream university.
How to conclude a statement of purpose effectively?
While writing a statement of purpose you must focus on both the introduction and conclusion as they are inevitably connected. It should summarise the highlighting points and it should be well-constructed and error-free like every other paragraph of your statement of purpose. It is the last impression that you can make on the admission committee so you must be extra careful and focused.
Explore our Statement of Purpose Format by Accessing SOP Sample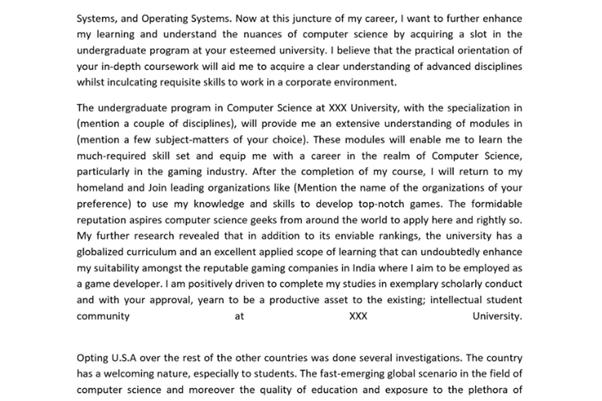 Why Should Students Prefer India Assignment Help for Exceptional Statement of Purpose Formats?
Experienced SOP Writers
India Assignment Help houses a pool of experienced writers who have excellent expertise in SOP writing. They hold advanced degrees like Masters and even PhD and immensely professional in offering the best guidance in statement of purpose writing. Moreover, they are also well-versed with the most renowned universities across the UK, US & Canada and their fundamental SOP expectations. So, if you want to submit the best application for getting into your dream university, you must avail our statement of purpose format.
Best Quality Writing Guaranteed
Every SOP we handle at India Assignment help passes through a standard process. It includes in-depth research, bringing the relevant content from the reliable sources, writing from scratch, adding credible references and comprehensive scanning of the paper. In such a way, we assure you the best quality writing when you rely on us for exceptional SOP writing. We also provide you with the best Statement of purpose templates so that you can avail an idea on our writing approach.
Round the Clock Assistance
Need help on SOP writing at the wee hours? Now you can connect with our efficient customer support personals who work round the clock for addressing your concerns. You can request the best SOP format, share your writing difficulties through the mail, phone call and even use live chat options. We assure you to offer the best guidance and help you achieve the milest